Today also starts with a zebu sandwich, lovingly called Cholesterol Submarine. Every day could start this way! Anto, Andrea and I drive with Patrice and Daddy to the Analamazaotra National Park. There is a big parking lot in front of the park entrance, and the one or other French tourist seems to have lost his way here, too. A small museum and a toilet house, that's it. Nevertheless, one has to register. Practically, right in front of the entrance, there is already a Calumma brevicorne female, one that gets very excited about us. t starts to rain, no to pour… everything is soaking wet in seconds. We find another little Calumma brevicorne baby, which the fat French women are only peripherally interested in. It is small and dark and sits right between dried leaves. I only recognize it when Daddy has it between his fingers. I would never have found it myself! A completely emaciated dog is running around on the parking lot lawn, probably on the verge of death. He is trembling, keeps falling down, can hardly stand on his feet, closes his eyes.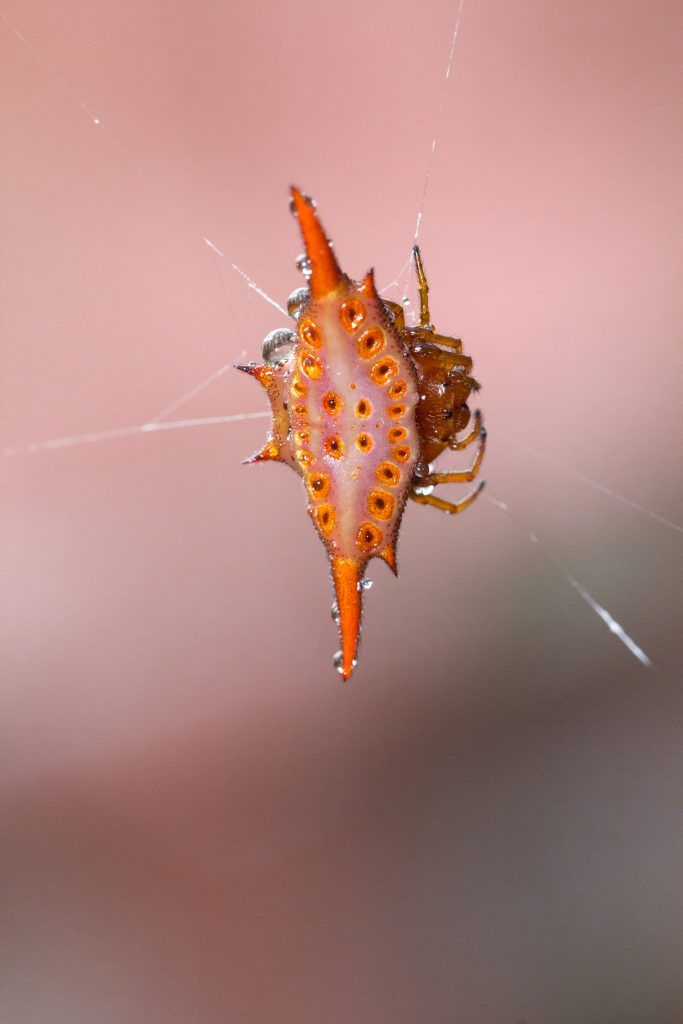 In contrast to yesterday, the day goes rather unspectacularly. We meet tour groups, again and again, almost all of which have very little interest in chameleons and probably want to check off the destinations more than they want to experience them. A pity. In the middle of the rainforest, some Indris are sitting on the trees at a height of several meters – actually, you can only see their butts from below. Among the Indris there is also a girl in tight, soaking wet jeans, in ballerinas and with Iphone in her hand. Maybe she was mistaken in her holiday destination? Mallorca is the one where you fly less long… but also starts with M!
In between we find crab spiders (correct, they aren't crab spiders at all, but "spiny orb weavers"), totally wacky little brightly colored critters that I wouldn't have associated with spiders at all – if they weren't in webs. At some point, we follow Patrice straight through the rainforest. There is no trail and Patrice disappears again and again to find diademed sifakas. After what feels like an eternity – and slowly the climbing gets really exhausting with the heat and humidity – we are standing directly below them. Directly it hits quite well, first one of the sifakas pisses on my sweater. But until he drops his big business, I have saved myself five meters further away. The others do the same for now – seems to be a good occupation when strange bipeds stand under the trees.
On the way back – back on the normal round trail – we find a Furcifer wilsii female, which is as thick as a golf ball and jumps very nervously from the branch. We leave her alone relatively quickly. Patrice suddenly discovers a strange big beetle. While trying to catch it, the little creature flies about 30 m further and lands in a high tree. Patrice shrugs and says "I'll catch him!" and disappears. Anto and I look at each other in disbelief… it seems to be a rather hopeless task. Patrice has to climb into the tree, in front of it it's relatively steep downhill, and every movement of the leaves could already make the beetle fly away. After some time he comes back – and presents us the beetle in all seriousness! Unbelievable. Funny thing is that… this little animal is as long as the palm of my hand and has a huge nose. Nobody knows its name, I call it Nose Bug (Note: It wasn't so wrong, it's a lantern bug called Zanna pauliani). By the way, we discovered a Calumma nasutum on the way there – so we didn't, Daddy did. In two meters height on a dead leaf. We also meet several giraffe neck weevils, both females and males. Meanwhile, I'm just wondering about a Japanese tour group (they are really everywhere), who can get excited about the red bizarre beetle for about a minute, but the chameleon (the much rarer one!) opposite doesn't let them go crazy. Well, more chameleons for me.
Back at the lodge, there are still plenty of day geckos on the palms above the Hibiscus bushes. They bask in the afternoon sun and enjoy the warm places – most of them even without biting each other. And at 4 pm there is finally a pretty big highlight: We drive out of Andasibe again, until we reach a small piece of forest. What is there to see here? An especially big Parsons chameleon, a "yellow giant". And this guy is giant. One after the other, everyone is allowed to take pictures of the beautiful chameleon for a few minutes. An impressive animal, but one that is probably older and has been through a lot. In the morning he was probably attacked by a bird, now his tail is broken and his left eye is dripping. Nevertheless an impressive experience. At this point, by the way, one more remark: The animal is still alive two years later, and survived the bird attack relatively unharmed.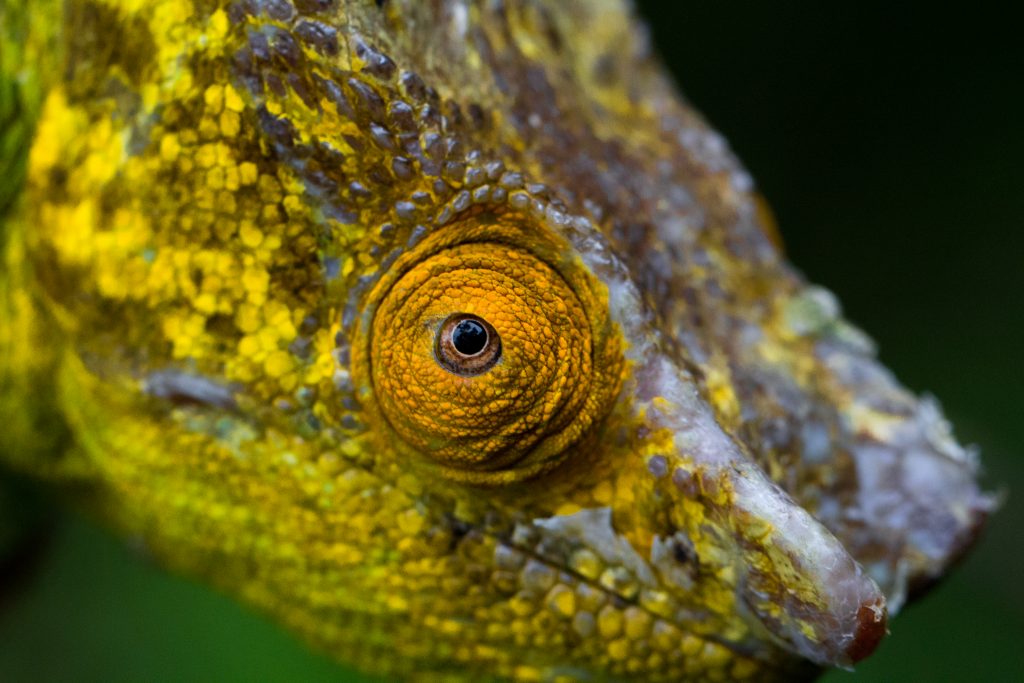 The day ends with a nice get-together on the veranda. By the way, the dignity of people jumped on some tree already in Tana and has not been seen since. But that doesn't matter, that's what vacation is for. There are beef burgers (zebu of course) and great fried bananas with honey. Incredibly delicious, a pleasure. I just don't understand why many of the group don't eat from breakfast to dinner. Anyway, I was already feeling around 7 p.m. just before starving. And thirst, because there was no cold THB in the rainforest.
In the meantime, my clothes have taken on a discreet red mud color up to the knees (no, actually also above), the formerly white sweater is brown-red with grass crumb decoration. And just to clarify how you get the crazy idea to take a white puma sweater into the rainforest, of all things: It already had iodine stains that couldn't be washed out, so it didn't matter anyway.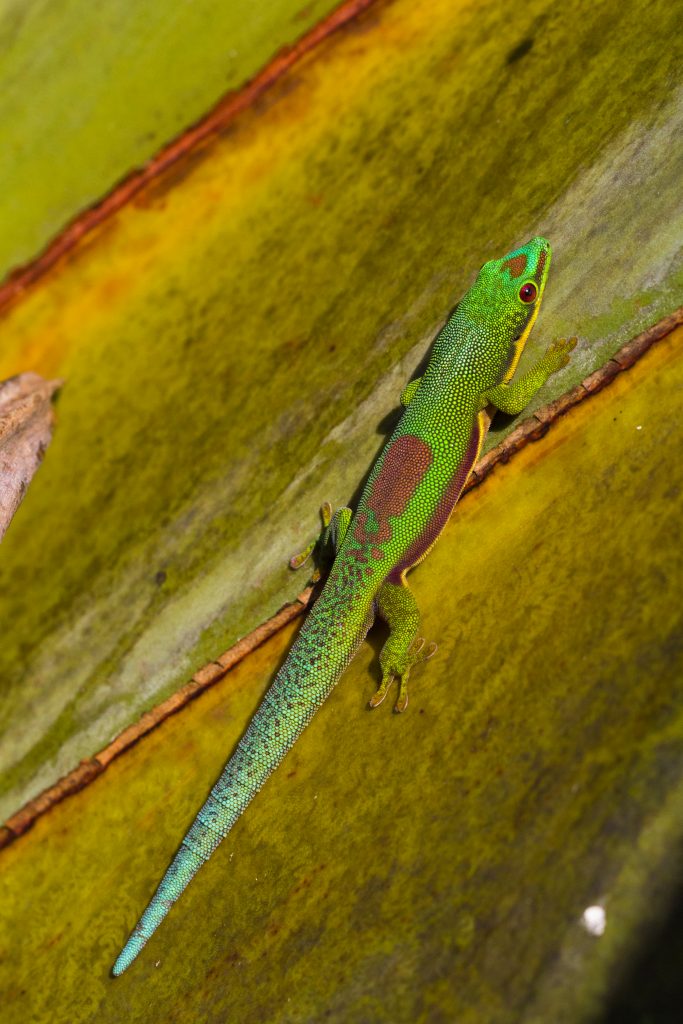 Underneath, today I got some fat scratches from spiny bushes and a big hematoma on my left knee (note: that was still there after three weeks) because I walked under the sifakas with a lot of momentum against a nasty branch. What I've learned today: In the rainforest, it is worthwhile to look less often in the air but more often on the ground.
It gets quite cold here at night. I have icy feet (well, nothing new, I have the same at home) and the bed is clammy. A bit like a camp for adults. But thanks to the rain there is a little frog concert to fall asleep. The village rooster and the lemurs will come soon enough to wake you up.