The day begins at 5:30, the cock from the neighboring village crows long and persistently. Some dog barks its soul out of its body – as I learn later, it is not only a dog, but also a group of quarreling lemurs. Everything sticks. I already have more mosquito bites than I consider healthy. Despite the mosquito net, but I didn't quite understand its technique anyway.I didn't really care last night. At 6:30 a.m. all kinds of funny alarm clock ringtones sound from the neighboring huts, including the title melodies of Star Wars and Kill Bill. When I open the door of my bungalow, I look directly at the rain forest …wow! It is misty, humid, just like I imagined. The lodge is built in steps, my bungalow is on the top row. Two rows down below, new bungalows are being built. Under the restaurant veranda and the bungalows, there is a narrow meadow, accessible by a steep staircase. A few meters behind it, hidden by palm bushes, is a narrow river that flows into a small lake. The lake can be seen from the restaurant veranda.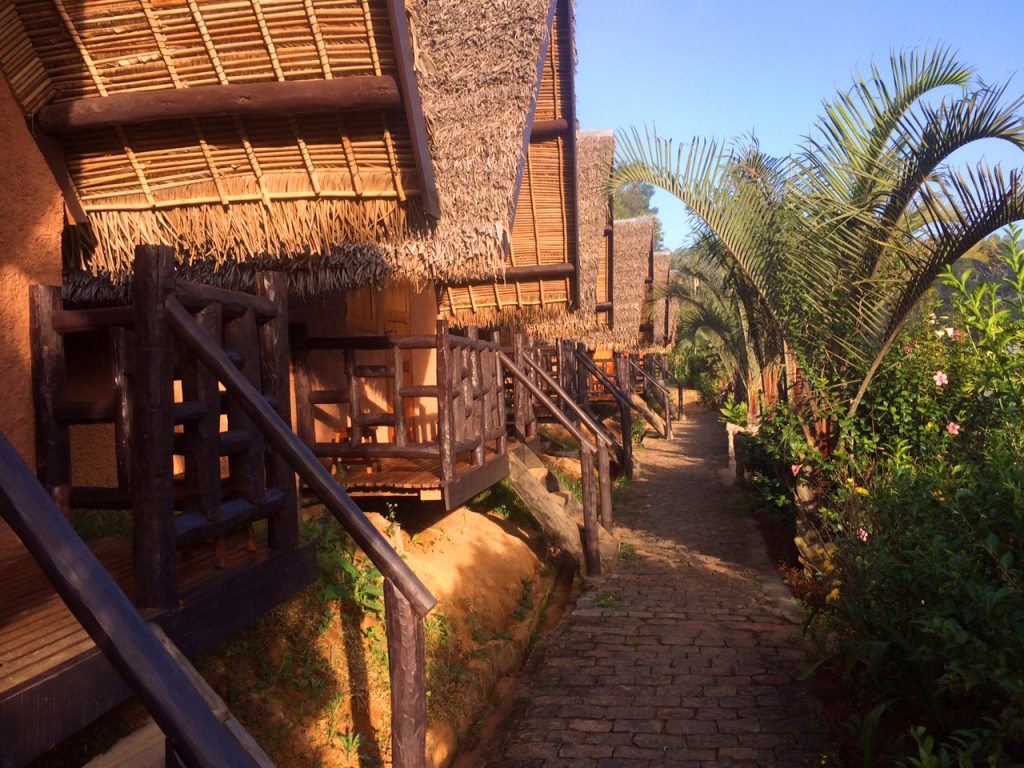 For breakfast, I order a zebu sandwich. When the giant baguette arrives, I'm a little surprised… oops, I didn't want that much after all. To my own astonishment, I manage to eat the whole sandwich in a few minutes, plus some cola and some scrambled eggs.
Around nine o'clock I start together with Anto, Andrea, and Dimby to a banana plantation. Whereby plantation here means that there are a lot of bananas somewhere in the rain forest. Besides everything else. We have just stopped and are walking along a gravel path towards the plantation when a woman in red cloth runs towards us and shouts "Tanalahy, tanalahy! She brings one with her – on a stick because nobody wants to touch the chameleon. Except us. It is a Furcifer pardalis, bright red and more than photogenic. Andrea is completely astonished, especially since we find a second, younger one. I roam around the plantation a bit – the owners are kind enough to allow us to visit, normally you are not allowed to walk around there.
Later we follow the wide path to the left into the bush, only after a few meters I see a small, narrow path. It leads past palms and bushes, through a narrow trickle of water to a hill with coffee trees. Up there are some huts, it is a small village with very nice people. They greet us all with a handshake and "Salama" – and show us their Calumma parsonii parsonii. The gigantic animals are sitting right at the entrance to the village – and the whole village has come to watch us funny Vazaha taking pictures and marveling at these "quite ordinary" chameleons. We find two giant females, who take endless photos of themselves completely undisturbed. You can even carefully take them in your arms, a very impressive feeling. These animals radiate a unique peace and serenity. They seem to stand above things.
After this beautiful visit, we walk back to the bus to take the road towards Vohimana. In the middle of a gravel road, we stop. To the left there is a hill down to some huts, to the right there is another path, otherwise, the road is lined with bushes and high trees. We hope for Calumma gallus. But Dimby immediately appeases us, that it might be difficult with the rain today. He and Toma get out to search the bushes. I'm getting out, too – fuck the rain, we're in Madagascar! Andrea stays in the car and waits, Anto gets out after a quarter of an hour of waiting. And we're lucky: Suddenly the sun comes out. It gets really warm, the wet clothes dry. We drive a few meters further… and a little boy asks what we're doing. I don't know exactly what Dimby tells him – at least the boy appears after a few minutes with a tiny little chameleon on a stick. A Calumma gallus, and what a guy! It doesn't take a quarter of an hour, when we have another Calumma gallus on the same stick, picked at a height of about 2 m, a Calumma nasutum, and as the crowning glory of the day, the little boy brings another Calumma parsonii girl along. I can't decide what I want to look at and photograph first… The two gallus males change color in the sun from brown to white with stripes, their noses glow in orange, blue and pink. Little wonders of nature. We can hardly tear ourselves away from these insane animals.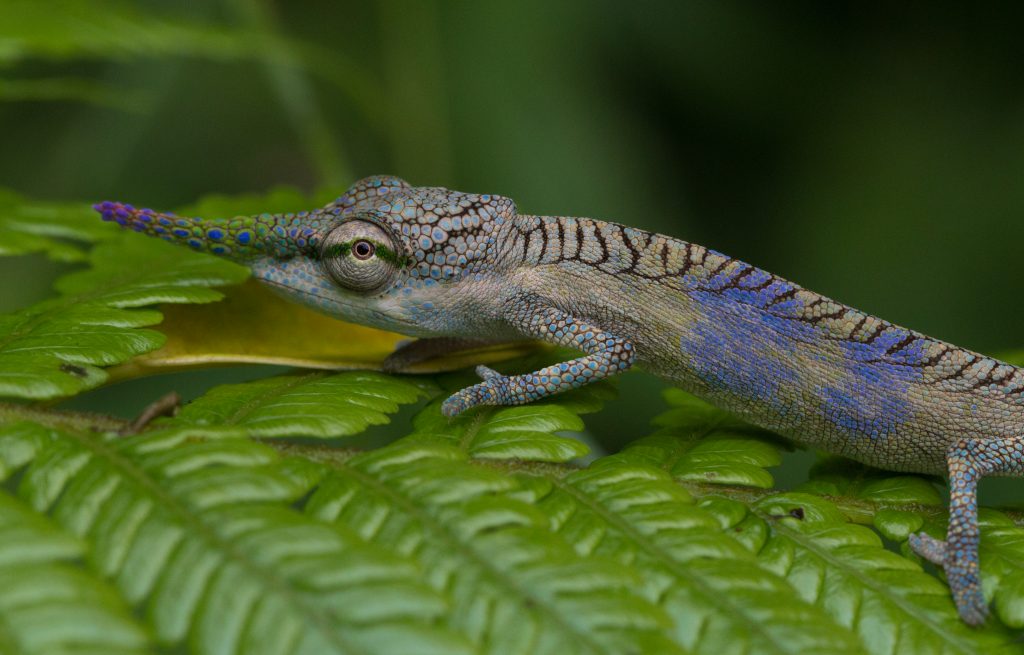 On the way back we stop at the roadside at a small stand, made of branches. Some women offer bananas and other fruit. Dimby translates for us and we buy a complete bunch of bananas against 2000 Ariary. Only are few are not worth buying! The bananas taste extremely delicious, I didn't think that much taste would come from such a tiny banana. Around 3 pm we arrive back at the lodge with a big grin on our faces.
It takes less than an hour, and our guides have found Calumma brevicorne, four Calumma parsonii crisitfer (two extremely cute orange and green babies, a big male and a half-grown female) in the garden. In addition, there is a Brookesia superciliaris, which has to sit on the swing for a short time for photography purposes, and various others. A chameleon paradise! Without further ado, the evening is turned into a small animal shooting because of the constantly returning rain, and suddenly the guides are dragging all kinds of frogs. Great animals, just as great photos.
For dinner I have sesame chicken with fried potatoes and a flambéed banana for dessert. Nomnom, rarely eaten so tasty. In addition three, four cool THB and it also sleeps wonderfully. The evening ends with many, long and interesting conversations. The group is really fun. Of course everybody wants to see Calumma gallus now, we made the others jealous enough with the photos… My pants look like dirt, mud all over my knees. A perfect day.
Finding of the day: And if the flight lasted 20 hours and I had to spend the whole time in the air instead of just one landing, I'd come back!