The day begins with a small breakfast. The open restaurant serves baguette, honey and scrambled eggs. You get a glass full of thick, white-greenish liquid with it. Supposed to be Corasol or something. It tastes like stirring some plants with water, not my cup of tea. I drink it bravely anyway, somebody claims that it protects against cancer (well, if the evil pharmaceutical industry finds out! 😉 ).
A little later we start with the cars to the nearby village. Just down the road and then left, then we are standing on a dusty place, surrounded by wooden huts and a lot of garbage on the ground. We are directly at the port of Ankify. Our two speedboats – with sun roofs by the way – are already lying on the shore. Over a small scree and garbage dump, we climb aboard. Intelligently, I choose the place right at the front – and after only a few minutes of boating, I realize that this was the stupidest idea of the whole trip. The waves are not very high, but thanks to the speed the boat literally flies out of the water every few meters (at least with the bow), only to crash back into the concrete-hard sea. Not for people who have problems with their intervertebral discs. Some people on the other side of the foremost bench also have… have very masculine problems, because there are other parts of the body that bounce around. It's been almost an hour, and I'm sore in every bone. If you press yourself with all your strength on the bench and lift yourself up while the boat is flying up, you can at least cushion the impact a little bit. It causes terrific muscle aches. At some point we see Nosy Faly lying directly in front of us. We drive a curve towards a small village, Mahabo. As the tide is coming in, the sandy bank is quite steep. As soon as we jumped from the boat into the ankle-deep water, we already notice all the garbage around the village. And there are many chickens. And children. It also smells like rotten fish, which is spread out on meter-long wooden benches to dry. We walk across the huts on the way to Robby's hut. A few times we ask a little boy and the neighbors confirm that Robby is even there.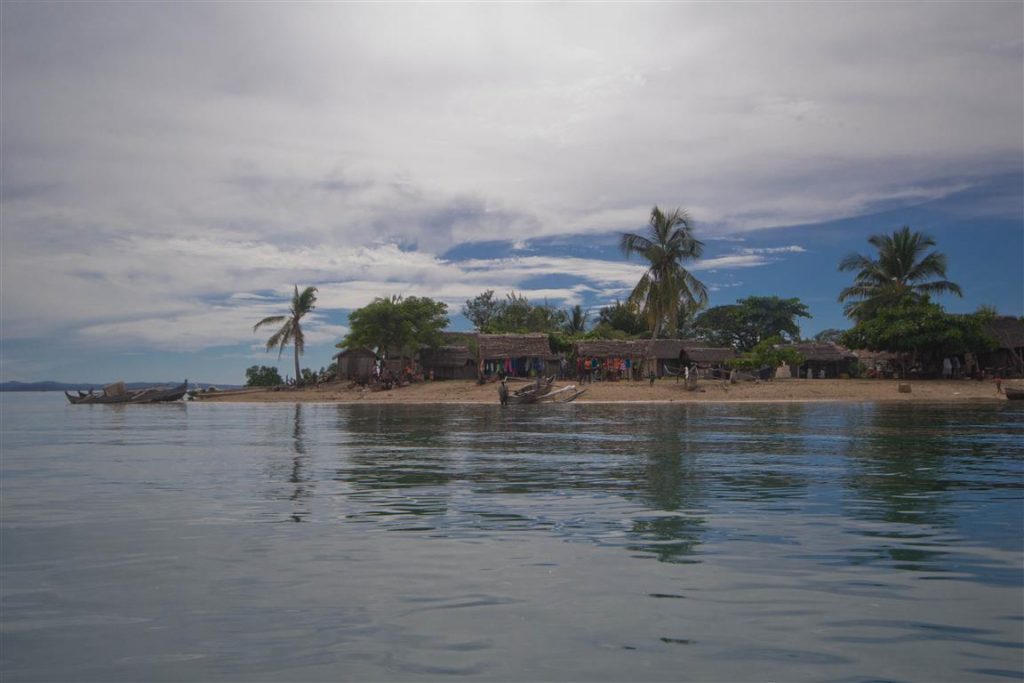 Then we stand in front of the hut. A wooden hut with a leafy roof, the door firmly locked, there are no windows. About twenty meters behind it the steep beach begins. Thorsten knocks and calls for Robby. No reaction. Just as we are considering whether we have misunderstood the neighbors and Robby has gone out fishing, after all, the door opens and a sleepy, tanned Robby stands in it. He drives his hand through his face, blinks into the sun – and discovers the whole group standing in front of his hut. "Holy shit …" Then follows a ten-minute hug with Thorsten. Martin greets Robby with a handshake, they probably still know each other from some stock terraristic shows. Robby also remembers me. Whether he has time to accompany us? Of course, he has.
We go straight on at his hut, past the drying fish towards the other side of the island. A narrow footpath runs past meadows and bushes between some trees, where we stop and swarm out to look for chameleons. Unfortunately, we learn from Robby that it has hardly rained on Nosy Faly in the last few months. The ground is so hard that no female chameleon should be able to bury eggs here. I can barely loosen it with my fingers alone. Robby weighs at least 20 kg less than the last time I saw him in Germany. His collarbones stick out, his legs have lots of scars from badly healing wounds, and his feet are quite pitted. Robby tells us that just a week ago Thomas and Yvonne were with him. They had left him a laptop, camera, mobile phone, and other small things and even bought him a boat. Unfortunately, the short "wealth" lasted only two days, then Robby's Malagasy ex-girlfriend took everything and disappeared forever. I guess he picked the wrong girl. The rest is Robby's camera and a lighter, the nice lady took everything else with her to her children. I guess the temptation was just too strong.
At some point, we reach a place with a deep well from which a younger woman pulls up an old bucket of water. In the trees and bushes around the small washing place, we find some panther chameleon males, magnificent blue-white-turquoise colored animals. Beautiful! I don't get much time to take pictures, but these little color wonders are unbeatable in real life anyway. Heidi finds a small snake at the back of the place, which she patiently holds Dimby – who of course has long since unpacked his camera – in position to take pictures. After this break, the path leads out of the trees onto a sandy, wet path, a mangrove area, lined with palm trees. We are close to the sea again.
Shortly before the end of our excursion, we reach a small village of a few huts. In front of some entrances, colorful laundry on linen is gently blowing in the wind. In front of the village in a small tree population, Robby shows us Kinixys zombensis domerguei, tortoises. It is possibly a species of its own, living here in the foliage between the trees. Relatively many animals can be found within a few square meters of the village and in fact, they were probably not collected by locals but can always be found here. We take photos and Dimby shows us breadfruit, a spiny, big, neon green thing. Unfortunately, I don't know what it tastes like today. On the beach, the boats are already waiting for us. On this side of the island, the beach is almost white, fine and hardly dirty. The closer you get to the huts, the dirtier it gets. Robby eats a second zebu sandwich and asks if we can take him to his village. Sure we can. Slowly the boat goes around the island. Finally, we get back to the starting point of our little hike on Nosy Faly. Two long hugs, then Robby jumps off the boat and lands with a loud cheer on the sand of Nosy Faly again. He waves, we wave. The boat turns and heads back to the sea, back to Ankify. It was a very impressive and profound encounter on Nosy Faly, which follows me the whole rest of the day. I am very thoughtful. The life there, the poverty, the state of the island in many places, the missing generation of chameleons this year, Robby's situation… It's all running through my head. The boat drops us off right on the beach at the lodge. I fetch a THB and sit on the beach for a while, lost in thought – with coconuts that Armin and Heidi have cracked with great effort.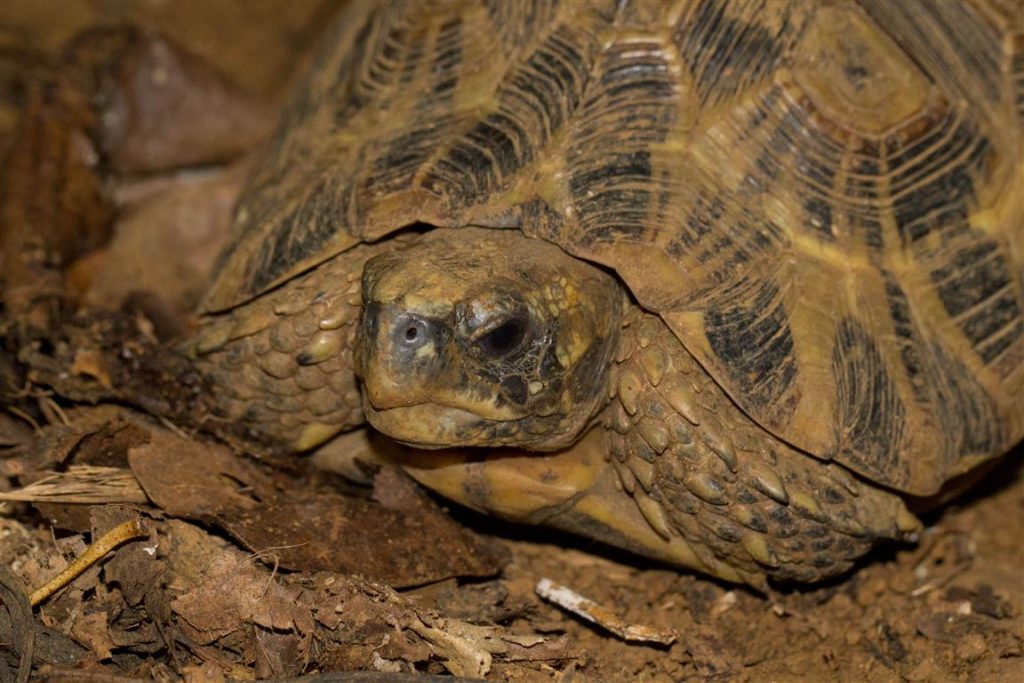 Robby told me a lot. In the summer he has seen whales while fishing and dolphins are also often seen off the coast. He earns his living by fishing. He needs 400 Ariary a day for his daily portion of rice. That may seem very little to us, but on Nosy Faly it has to be earned first – and there are not many opportunities to do so. We are here at a favorable season. In winter it has only (!) 20 to 25°C. During the main rainy season, it is probably unbearable on the island with over 35°C and 100% humidity. Robby also had to get used to it, but now he says he is very happy here. No stress, no malaria (I think this is a rumor). So far he is relatively healthy, he only has a toothache from time to time – and he already pulled a sore tooth himself. Medicines, however, are scarce on Nosy Faly – and prescription, strong painkillers of course anyway. So life in "paradise" does have its dark sides.